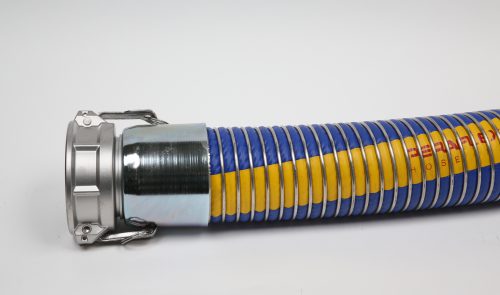 Peraflex AAP composite hoseis designed specifically for the transfer of hydrocarbon based products, heavy oils, solvents and 100% aromatics. This lightweight and easy to handle composite hose is constructed of seamless tubes, plastic films and barriers virtually eliminating leaks. It is rugged and very flexible offering superior reliability and safety.
Typical Conveyance
Gasoline, diesel, paraffin, kerosene, lubricating oils, 100% aromatics, black oils and solvents
**Refer to chemical compatibility chart for specific recommendations**
Blue With Yellow Band
A – Aluminium Internal Wire 
A – Aluminum External Wire
P – Polypropylene Seamless Tubes
Cover – Vinyl coated polyester. Abrasion, ozone and fire resistant
Reinforcement – High strength, High-density polyethylene woven fabric
Liquid Barrier – Seamless polypropylene tubes and film barriers
Options – Custom colors, special branding and high-strength ballistic nylon cover
**Other wire combinations available based on service conditions
and chemical compatibility (e.g AGP)**
Ship-to-shore transfer
Tank trucks
Loading arms
Rail Car
Bunkering
Dockside Operations
Temperature range: -40°F to +212°F
Full vacuum rated
Safety ratio: 5 to 1
Electrically continuous
Meets U.S Coast Guard requirements
**Larger diameter hoses available upon request**
End Fittings
Externally crimped NPT, fixed/floating flanges, quick disconnected and victaulic ends.
All fittings are available in a variety of materials.
Additional Information
Rated working pressure is @ 70°F 
Increased operating temperatures may limit working pressure of the assembly 
Technical data is approximate and subject to change.
A wide range of hose fittings are available. Please refer to the fittings section.