AAU – MATERIAL HANDLING SERVICE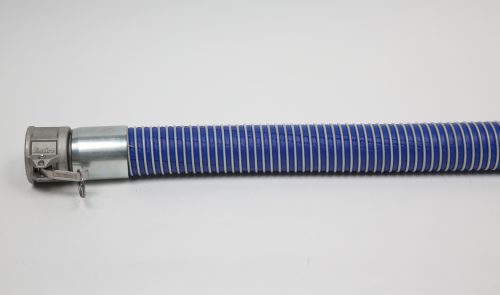 Peraflex AAU composite hose was designed specifically for use when transferring light granular materials such as powders and plastic pellets through a lightweight, durable and flexible hose.
Typical Conveyances
Plastic pellets, powders, dust, air and fumes
**Refer to chemical compatibility chart for specific recommendations**
All Blue
A – Aluminum Internal Wire
A – Aluminum External Wire
U – Polyurethane films
**Other wire combinations available based on service conditions and chemical compatibility (e.g SGU, SAU)**
Cover – Vinyl coated polyester. Abrasion, ozone and fire resistant
Reinforcement – High-strength, high-density, polyethylene woven fabric
Material Barrier – Polyurethane film barriers
Options – Custom colors, special branding, and high-strength ballistic nylon cover
Light Material Handling
Pneumatic Conveyance
Gravity Feed 
Temperature range: -40F to +212°F
Safety ratio: 4:1
Full Vacuum Rated
Electrically continuous
End Fittings
Externally crimped NPT, fixed/floating flanges, quick disconnects and victaulic ends
All fittings are available in a variety of materials
Additional Information 
Rated working pressure is @ 70°F 
Increased operating temperatures may limit working pressure of the assembly 
Fitting pressure may limit working pressure of assembly
Technical data is approximate and subject to change.