GGN-HT – PETROLEUM HIGH TEMPERATURE SERVICE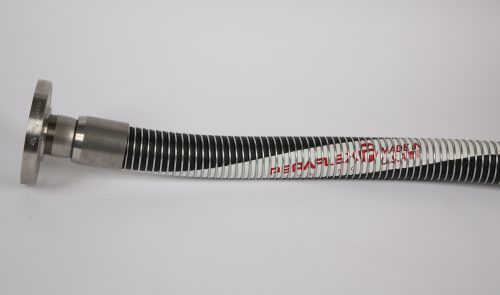 Peraflex GGN-HT composite hose is designed specifically for use when transferring petroleum and chemical products at elevated temperatures. Resistance is achieved using heat stabilized nylon tubes and Teflon* films with multiple wraps of chemically resistant polypropylene films. The special ballistic cover resists heat, abrasion and puncture.
Typical Conveyance
Hot oils, lubricants, hot asphalt, 100% aromatics and petroleum based products
**Refer to chemical compatibility chart for specific recommendations**
Black With White Stripe
G – Galvanized Internal Wire 
G – Galvanized External Wire
N – Heat Stabilized Nylon
HT – High Temperature
Cover – Ballistic nylon cover. Heat, abrasion and puncture resistant
Reinforcement – High strength, High-density polyethylene woven fabric, heat stabilized nylon
Liquid Barrier (GGN-HT) – Multiple seamless nylon tubes and polypropylene films 
 Options – Custom colors and special branding

**Other wire combinations available based on service conditions
and chemical compatibility (e.g AAN-HT)**
In-Plant Service
Refining Proces
Rail Tankers
Tank Trucks
Ship-To-Shore
Temperature range  GGN-HT: -40°F to +250°F   
Full vacuum rated
Safety ratio: 5 to 1
Electrically continuous
Meets U.S Coast Guard requirements
End Fittings
Externally crimped NPT, fixed/floating flanges, quick disconnects and victaulic end.
All fittings are available in a variety of materials.

Additional Information 
Rated working pressure is @ 70°F 
Increased operating temperatures may limit working pressure of the assembly 
Technical data is approximate and subject to change.
A wide range of hose fittings are available. Please refer to the fittings section.